This list of seminars is an example from last year. Upcoming 2018 seminar information will be shared at a later date. If you are interested in leading a particular seminar not listed here, please contact the VP of Conventions.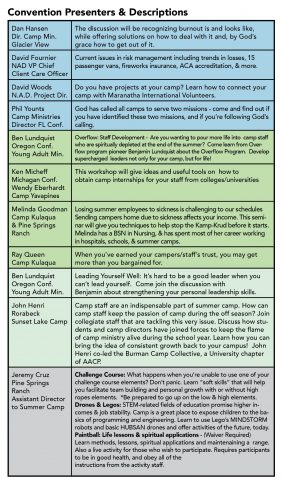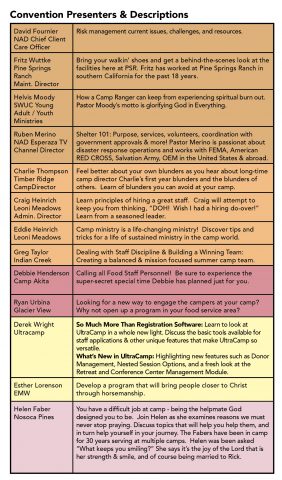 MANAGERS & EXECUTIVE DIRECTORS
"Burnout" with Dan Hansen, Glacier View Ranch
"Maranatha Volunteers" with David Wood
"A.C.A Accredidation"
CAMP DIRECTOR
"Cell Phone Policies: What the Future Holds, & How Long Can We Keep it That Way"
"Camp Interships" with Ken Micheff
"Inside Scoop on Camp Nursing: Preventative Measures to Stop it Before it Starts" by Melinda Goodman, Camp Kulaqua / Pine Springs Ranch
RANGERS
"Adventist Risk Management" with David Fournier, ARM
"Shelter 101" with Pastor Merino, NAD
"Walking Tour of Pine Springs Ranch" by Fritz Wuttke, Pine Springs Ranch
"Spiritual Life of a Ranger" with Helvis Moody, Pine Springs Ranch
FOOD SERVICE
"Expanding Your Vegan Menu" with Debbie Henderson
"Opening the Kitchen to Campers" with Glacier View Ranch Chef
ACTIVITIES
Paintball (Weather Permitting)
Ropes Challenge Course (Weather Permitting)
Drones (Weather Permitting)
Lego Robotics
CAMP SERVICES
"UltraCamp" (Multiple Seminars)
Equine Seminar with Esther Lorenson
NEW TO CAMP
"First Time Hiring Staff" with Craig Heinrich, Leoni Meadows
"Dealing with Staff: Discipline & Building a Winning Team" with Greg Taylor, Indian Creek Camp
"First Summer Blunders and How to Overcome" with Ken Micheff
"How to Survive Camp for the Long Run"
CAMP SPOUSE
Seminars & discussion focused on the spouse of camp employees, providing support and spiritual encouragement
CHILDCARE
Times allotted in the schedule when childcare will be provided to children, to allow adults the ability to freely attend seminars of their choice.